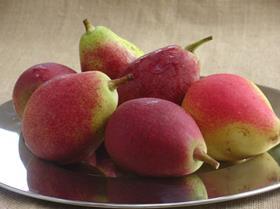 The locally-bred blushed pear variety Cheeky has had a great impact on the South African pear industry since it was introduced ten years ago.
However, despite this success, growers and marketers have been encouraged to carefully select pear cultivars to prevent the oversupply of blushed pears in the marketplace, especially if the pears don't have long storage ability.
This comes at a time when the industry is recording a significant increase in plantings of Cheeky, an early ripening variety which bridges the gap between blushed pear varieties such as Rosemarie, Flamingo and the later-season cultivar Forelle.
It has for some time been a vision of the South African pear industry to develop a range of blushed pears which could be offered from early to late.
Cheeky was bred by the legendary Taaibos Human from the Agricultural Research Council (ARC), while the Hortgro-affiliated Culdevco is responsible for the commercialisation of the cultivar.
"This proudly South African blushed pear variety was the third significant addition to the range of pear varieties bred in two decades by the ARC and has been making waves ever since," said Carmé Naudé and Dr Leon von Mollendorff in a newsletter to growers.
The majority of Cheeky plantings are in the Ceres region and take up 51 per cent of total hectare of plantings of the variety. The regions of Wolseley/Tulbach are second on the list with 14 per cent, Villiersdorp/Vyeboom next with 11 per cent and Groenland and Langkloof with 8 per cent.
"The total planting of Cheeky in South Africa now amounts to 462 hectares,' Naudé and Mollendorff continued. 'About two-thirds of these plantings are already in the production stage and the rest are in the vegetative stage.
'In comparison with other pear cultivars planted over the last six years, Cheeky has shown a 100 per cent growth rate from 232ha in 2013 to 462ha in 2018," they said. "This added pressure on growers, packhouses and marketers because of the exponential increase in volumes of Cheeky fruit and the limited timeframe before the Forelle harvest."
Naudé and Von Mollendorff explained that leading exporters of Cheeky also felt that the volumes of blushed pear harvested between weeks 3 and 5 during the South African season have increased significantly over the past few years.
"Growers and marketers are encouraged to carefully select pear cultivars to prevent the oversupply of blush pears in the marketplace especially if the pears don't have long storage ability," they noted.
Cheeky has been very well received in most markets because of its attractive blushed colour, taste, and especially fruit size.
"Cheeky is regarded as a high-value pear cultivar although the prices were more under pressure during the last season, as they were for most other pears as well," they concluded.