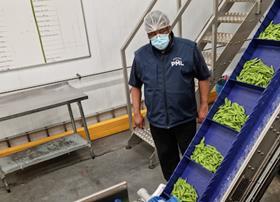 Perishable Movements Ltd (PML), the global perishable cargo specialist, has acquired a state-of-the-art multi-head packaging machine at its Heathrow base as it continues to invest in new technologies.
The company said the £250,000 Vegatronic 6000 machine would have a dramatic impact on productivity, due to the number of heads (16 compared to the traditional 14), which delivers unrivalled speed and efficacy.
By installing the new machine, PML's packaging rate for sugar snaps, mange tout and physalis has doubled, increasing from 40-45 packs per minute to an impressive 90-100.
The enhanced speed of operation requires an additional member of staff (from two to three) to ensure a seamless production line, while the versatility, ease of use and improved access for cleaning all represent further benefits. In the long term, PML anticipates using the multi-head packaging machine for other products.
Commenting on the company's latest investment, sales director Nick Finbow said: "PML has always been at the forefront of ploughing investment back into the business and adapting all operations to offer its customers a service which reflects optimum maximum efficiency.
"This latest purchase will enable us to pack more items, at double the speed, meaning that we are well placed to respond to delays in the supply chain – if a flight is delayed for example – and counteract any potential disruption to the original onward transport schedule."