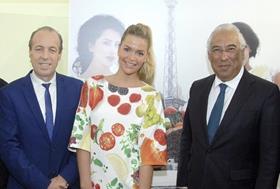 Portugal's new government threw its full weight behind the country's fresh produce industry at this year's Fruit Logistica with three members of the administration making up part of a high-ranking delegation at the show.
Prime minister António Costa, agriculture, forestry and rural development minister Luis Capoulas Santos and secretary of state for agriculture and food Luis Medeiros Vieira joined Portuguese ambassador in Germany João Mira Gomes on the first day of the fair, where 30 companies exhibited on a joint stand under the Portugal Fresh umbrella.
Rocha pears featured prominently, Germany being a strategic market for this and other Portuguese products. Portugal Fresh said one of its key goals is to strengthen agreements with retailers and wholesalers in this market of 82m consumers with high purchasing power.
Portuguese exports of fruits, vegetables and flowers grew from €780m in 2010 to €1.1bn in 2014 and preliminary figures for 2015 indicate that exports reached €1.2bn. The industry's stated aim is to export €2bn of fresh produce and flowers by 2020, a goal it hopes to reach with the help of Portugal Fresh's official institutional partners, Crédito Agricola-Alqueva and Hidrosoph.