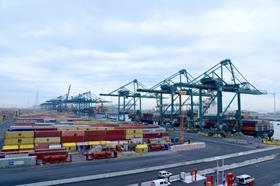 The total freight volume handled by the port of Antwerp rose by 4 per cent in the first quarter (Q1) of 2020, when compared with the same period last year.
According to the port authority, container volumes in particular made up for the decline in other freight categories such as conventional breakbulk and vehicles.
The impact of the coronavirus crisis remained 'limited' in the first three months of the year, the port authority said.
With growth of 9.5 per cent in TEUs and 9.4 per cent in tonnage, the container trade remained by far the largest segment at the port of Antwerp.
With the exception of a slight decline in goods from the Far East (down 2.2 per cent) all trading regions experienced strong growth.
A total of 3,476 seagoing ships called at Port of Antwerp in the first quarter of 2020, some 1.2 per cent fewer than the first quarter of 2019, while their combined gross tonnage fell by 3.4 per cent to 98m tonnes.

Covid-19 impact
The current pandemic is causing disruptions to production and supply chains around the world, and given the fact that the port of Antwerp is an international hub for the transport of goods it will inevitably feel the effects of this, the port said, adding that the impact of the crisis will become apparent in the second quarter.
At the moment, however, it was impossible to predict the final impact on the global economy and thus also the volume of freight passing through the port of Antwerp, with much depending on how quickly industry is able to start up again and consumer confidence returns.
'Thanks to its worldwide connectivity and the diversity of its trade, port of Antwerp is less dependent on specific markets,' said CEO Jacques Vandermeiren. 'Moreover the port has enormous storage capacity that can act as a buffer for the economy, which will permit faster restarting of industry and recovery of consumption in Belgium and part of Europe.'
Port alderman Annick De Ridder said that the port remained '100 per cent operational' despite the far-reaching social consequences of the coronavirus pandemic.
'Freight handling and industrial production are continuing unabated, thanks to the efforts of the entire port community of employees and employers,' de Ridder explained. 'All partners in the chain of production and supply are constantly monitoring the situation and making adjustments where necessary, thus enabling Port of Antwerp to react to the varying demand from the market. I cannot emphasise strongly enough how grateful I am to all those who are helping to keep the port operating.'