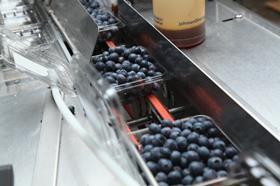 Argentina's blueberry sector is looking ahead to a favourable 2021 campaign thanks to the anticipation of a good quality crop and an improved economic outlook.
According to the Argentine Blueberry Committee (ABC), recent measures introduced by the government, such as the removal of witholdings and a 50 per cent electricity subsidy for growers in Entre Ríos, will help producers to regain some of their competitiveness against other Southern Hemisphere suppliers.
The ABC said new opportunities were opening up for Argentine blueberries in a post-pandemic world with its renewed focus on health and food security, with more and more consumers incorporating the fruit into their regular diets.
Alejandro Pannunzio, president of the ABC, said Saudi Arabia had the potential to become an important market for Argentine blueberries following a successful trade mission earlier this year in which several leading Argentine exporters and Saudi retail chains took part.
"We have the fruit in the size and quality demanded, and are ready to go," he said.
Argentina exported US$41m of fresh blueberries in 2020. For 2021, the ABC is forecasting a fresh crop of 16,000 tonnes, of which around 5,000 tonnes will be organic blueberries.