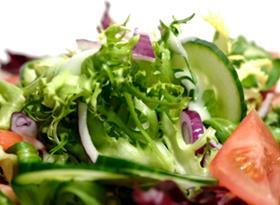 Bakkavor Group's financial results for 2011 show its prepared producesales are driving growth but fresh produce sales have slumped by 19 percent.
The group achieved good sales growth of 2.1 per cent in the 12 months to 31 December 2011.
Groupsales rose to £1.68bn (€2bn) for 2011, from £1.64bn (€1.99bn) the previous year, underpinned by the success of its UK prepared business.
But, whilethe figures show UK prepared performance rose from £1.27bn (€1.54bn) in 2010 to £1.32bn (€1.60bn) in 2011, UK produce performance fell 19 per cent from £108m (€131m) in 2010 to £85m (€103m) in 2011.
The results chime with last month's announcement that Bakkavor-owned English Village Salads (EVS) is to shutdown at the end of March.
Some 140 jobs are to be lost following the loss of a major Asda contract as the retailer takes a substantial part of its salad procurement in-house to International Produce.
Inthe statement, Bakkavor said: 'The characteristics of the produce industry have changed markedly in recent times. As a result, we embarkedon a careful review of our produce operations resulting in a significant remodelling in 2011.'
Before closing EVS Bakkavor shut its loss-making Exotic Farm Produce operation in the first half of 2011.
TheBakkavor Group employs over 18,000 people globally and producing over 6,000 fresh prepared food products in 18 different product categories.
BakkavorSpalding is sponsoring this year's Go Global Cookery Competition, whichis part of a scheme to help Lincolnshire schoolchildren learn about other cultures through food.
There are 21 teams from 12 Lincolnshire schools competing to win £1,000 that will be spent on equipment for the winning school's food technology room.
Senior development manager at Bakkavor Spalding, Roberta Richardson, has said "as a local employer with strong food and community values" Bakkavor is "delighted" to be sponsoring the competition.