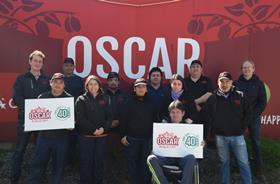 Primland began producing in Chile more than 20 years ago through the company's Primland Chile branch, giving it the capacity to supply customers during the off-season for Northern Hemisphere production.
"As a major and specialised operator in kiwifruit, our customers appreciate that we can guarantee consistent supplies both in terms of volume and quality," said managing director Jean-Baptiste Pinel. "We handle around 150 containers each year in Chile."
According to Pinel, one of the biggest challenges at the moment is the slight decline in Chilean kiwifruit production over the past few seasons.
"We need more orchards in order to increase production," he said. "We have planted some Oscar Gold in Chile, but the vines are still young, so production is limited."
Pinel reveals that the company's strategy in the country is to continue to train its growers and workers in order to ensure a consistent standard.
"We have to offer our customers the same high-quality Oscar kiwifruit that we produce in other regions, as well as the same range of different kiwifruit, Oscar Green and Oscar Gold,' explained Pinel.