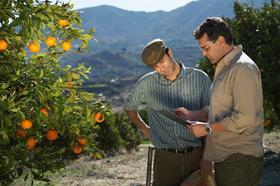 The average export price of Spain's fresh fruit and vegetables increased by 2 per cent in January when compared with the same month of 2021, standing at €1.21 per kg, against an average rise in production costs of 30 per cent.
According to Fepex, the figures highlighted the pressure on the viability of fruit and vegetable farms, and emphasised the need for 'urgent measures' to help the sector.
The country's fresh produce exports grew 1 per cent in volume during the opening month of the year, up to 1.2m tonnes, according to data from the Department of Customs and Special Taxes.
In value terms, meanwhile, fruit and vegetable exports came in 3 per cent higher at €1.5bn.

Vegetables climbed 6 per cent in volume compared to the same month of 2021 and 8 per cent in value, to 685,127 tonnes and €874m respectively.
Fruit exports fell by 4 per cent in volume and 3 per cent in value to just over 606,000 tonnes and €656m.

The average price of vegetable export increased by 1.8 per cent, standing at €1.31 per kg, and fruit by 1.2 per cent to €1.09 per kg.
'This slight rise highlights the impossibility of counteracting the unstoppable growth in production costs, which began in 2021 and has worsened this year, for which specific measures adapted to the sector are required,' Fepex stated.

'Among them, Fepex proposes the improvement of market crisis management measures, especially the withdrawal of product within the framework of fruit and vegetable producer organisations.

'There is also a 15 per cent discount on inputs, such as plastics and fertilisers used by fruit and vegetable plants and farms, as well as a reduction in energy and irrigation water costs,' the association added.
'In this sense, the implementation of a contracting model is proposed that allows double electricity pricing throughout the year, provided for in Law 16/2021, discriminating by irrigation and non-irrigation times on farms and by activity campaigns in handling warehouses. It is also proposed to reduce the energy costs involved in desalination.'