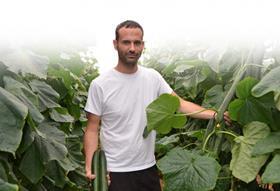 In 2019, Rijk Zwaan became the first vegetable breeding company to introduce three cucumber varieties with fusarium resistance, and last season growers in various countries gained experience with these 'For Defense' varieties.
Jaime Jimenez from San Agustín in Almería, Spain, was one of the growers utilising the Forami RZ variety.
"It was a fantastic experience, because the variety solved all the fusarium problems,' Jimenez explained. 'I had higher production this year and the quality of the cucumbers was excellent."
Fusarium is a fungal disease that can cause a lot of damage, especially when cucumbers are grown in soil in non-heated, medium-tech greenhouses.
The disease mainly occurs in autumn and winter, which are the main production seasons in southern Europe, and this is why Rijk Zwaan's fusarium-resistant varieties Forami RZ and Forada RZ are particularly suitable for cultivation in Spain and Greece respectively.
"I will definitely replant this variety,' Jimenez confirmed. 'Forami RZ has given me all the guarantees for a successful result. The variety has a good package of resistances. However, nowadays in Spain we regularly struggle with the new CGMMV virus, so I would like to see a new variety with a combined resistance to Fusarium and CGMMV."
Rijk Zwaan now wants to introduce the fusarium-resistance trait in more segments as soon as possible.
"We are currently breeding to produce resistant varieties of long cucumbers for South Africa, Australia and Mexico – three countries where fusarium can be a major problem,' said Cor Haaring, programme leader breeding long cucumber. 'For mini cucumbers, we have started trials with fusarium-resistant varieties for the spring and summer season in the Izmir region of Turkey. In the summer, we will also test them in Jordan. Furthermore, we are working on Fusarium resistance in our Asian cucumber programme and for slicer cucumbers.'
"Fighting fusarium is difficult, especially if the use of chemical crop protection agents is not allowed,' added crop specialist Javier López Rodríguez. 'Until now, grafting onto a resistant rootstock was the only way to combat the disease. But that is an expensive solution.
"The companies that grow Forami RZ are pleased with the variety, not only because of the resistance, but also because of the fruit quality. Occasionally the fruits have been a bit short. Forami RZ is at its best in the spring and summer. Our other For Defense variety, Fornax RZ, is well suited for autumn and winter cultivation."