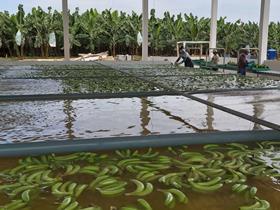 Ecuadorean banana exports contracted by 2.14 per cent in the first quarter of 2021 compared with the year-earlier period.
Richard Salazar, executive director of Acorbanec, said the fall was due to a drop in demand in Russia, the Middle East and parts of Europe.
"Russia and the Middle East are very dependent on oil. It is not that they have stopped buying [bananas] from Ecuador to buy from other countries, but that they have reduced their purchase volume overall," Salazar said.
However, other markets saw big increases in imports from Ecuador – shipments to Africa increased by 80.36 per cent in the first quarter, while the US and Eastern Europe saw rises of 17.83 per cent and 29.01 per cent respectively.
A total of 102.11m boxes were shipped from January to March, 2.22m boxes less than in the same period of 2020, with the European Union taking 29.39 per cent, Russia 20.65 per cent, the US 11.49 per cent and the Middle East 10.99 per cent.
Exports to Russia and the EU were down by 8.19 per cent and 3.29 per cent respectively. But the biggest fall was in shipments to the Middle East, which fell by 28.43 per cent.
In addition, at the end of February and March there was a decrease in shipments to Algeria and Iran (via Turkey) due to the reduction in the granting of import licenses and the outflow of foreign currency in these countries. Exports to Turkey also fell due to the fact that this country practically covers its demand through domestic production.
Producers have also had to contend with problems at home which have reduced the volume of exportable fruit. At the beginning of March, farms in Guayas, Cañar and Los Ríos were affected by ash falls from the Sangay volcano, while heavy rains led to flooding on around 1,400 ha of plantations, notably in Los Ríos.