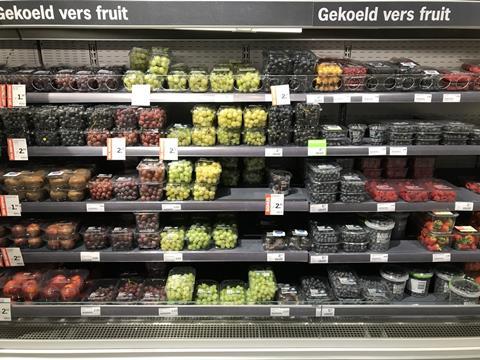 A major new survey of 23,000 grocery shoppers has found that, despite the continued expansion of discounters across Europe, product quality is the most decisive factor when it comes to how happy European consumers are with the fresh fruit and vegetables they buy.
As a result, retailers appear to have an excellent opportunity to bring more shoppers through their doors by improving the standard of the fruit and vegetables they sell.
The survey, which was carried out in France, Germany, Switzerland and the UK by management consultancy McKinsey & Company, observed that sales could rise by 10 per cent if certain improvements were to be made – even in a market that isn't growing.
"If you're a fresh-food retailer in Europe, your apples and bananas better be top-notch," McKinsey's report summary commented. "European consumers tend to judge the quality of a retailer's fresh produce department based on those two particular fruits."
Vegetable preferences are more varied, it said. "British shoppers closely inspect the quality of potatoes, whereas courgettes are important for the French. Germans will notice tomatoes the most. For the Swiss, it's lettuce."

In undertaking the research, McKinsey said its aim had been to create an in-depth database of factual evidence relating to perceived quality of fresh fruit and vegetables sold by food retailers in Europe.
"We found that, in each of the four countries we surveyed, consumers are satisfied with the fresh produce department of only a few retailers – underscoring an opportunity for most European grocers to up their game in fresh fruits and vegetables."
One of the key questions for the company's researchers was to ascertain exactly how consumers judged fresh produce quality. The role this judgment played in their overall satisfaction with the retailer was also taken into consideration.
"According to our research, quality is the biggest factor in whether a customer will recommend a store's fresh-produce department to other people," it noted. "Low prices and frequent promotions matter, too, but not as much as quality. These findings hold true in all four countries surveyed."

Good news for retailers
As McKinsey suggests, this might well be good news for grocery retailers looking to secure higher returns while investing less than they have previously to sustain price promotions.
"In our experience, quality-improvement programs in a fresh-produce department can increase the department's sales by more than 10 per cent year on year, even in a flat market," it continued.
"And the benefits don't end there. Quality improvements also result in more customer traffic and higher sales in the store's other departments. There's an undeniable halo effect: if shoppers perceive high quality in the fresh-produce department, their perception of the retailer's other departments improves as well."