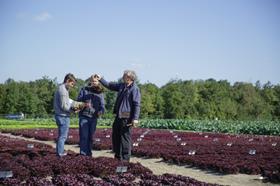 Netherlands-based seed specialist Rijk Zwaan has revealed that it generated a record annual turnover of €440m through the 2018/19 financial year, up 6 per cent on the previous year.
According to the group, its revenue grew across 'almost all its crops and regions', while its market share of around 9 per cent makes it one of the world's top five vegetable seed companies.
Despite the rise in revenue, the company's profit was €48m, down from €59m last year, attributed to accelerated investment and expansion in terms of the workforce, facilities and R&D.
'The company has invested in scaling up its production capacity in Tanzania, Mexico and Chile, and in improving its research facilities in China, Spain, the USA and Australia,' the group outlined. 'Investment projects in the Netherlands included land purchases in De Lier for the development of a new breeding facility for tomatoes, peppers and aubergines.'
Rijk Zwaan said that it invested approximately 30 per cent of its revenue back into research and development, which amounted to €126m in the past financial year.
"Developing and launching a new variety on the market takes between six and sixteen years,' said Ben Tax, one of the directors at Rijk Zwaan. 'Modern technologies such as digital phenotyping, machine learning and artificial intelligence are helping us to speed up that process and understand even more about plant traits. We're continuously innovating in order to meet the ever-changing needs of customers and consumers.'
The company said that it expected both its revenue and its workforce to continue to grow in the current financial year.