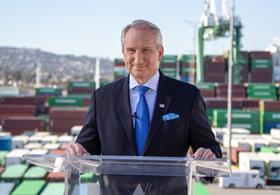 The Port of Los Angeles processed 10.7m TEUs during 2021. The performance bettered its previous calendar year record by 13 per cent.
Commenting on the result, Port of Los Angeles executive director Gene Seroka praised the efforts of terminal operators over the past 12 months.
"Decades of development provided the berth space, backland and rail infrastructure to process more cargo than ever before," Seroka said. "In 2021, our marine terminal operators and workforce gave us the ability to move that cargo — from the ships to railcars or out the gates on trucks — and for that we are forever grateful to them."
Seroka reiterated the importance of industry coming together to address challenges of the global supply chain, and highlighted the port's engagement with stakeholders at all levels of industry and government to find solutions.
Seroka applauded the renewed attention and government investments being made in ports nationwide, including the US$17bn earmarked in the recently passed national Infrastructure Investment and Jobs Act.
"This level of funding represents a monumental opportunity for ports," said Seroka. "Beyond freight system improvements, it will fund much-needed digital and cybersecurity infrastructure," he said. "It supports our creation of a future-ready goods movement workforce, and it aligns with our mission to lead the nation in the development of zero-emissions port drayage."