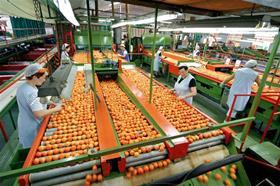 Market analyst IndexBox has released a new report covering the main trends in the European citrus industry, from production to exports and prices.
According to the report, titled 'EU - Citrus Fruit - Market Analysis, Forecast, Size, Trends and Insights', revenue generated by the EU citrus market came to US$12bn in 2018, up 2.8 per cent year-on-year, whilemarket value increased at an average annual rate of 1.2 per cent from 2007 to 2018.
Citrus production across member states was stable at 11m tonnes for 2018, while exports from EU countries came to 4.8m tonnes, down 9.1 per cent year-on-year and at an estimated value of US$5.1bn.
Spain led the way in exports, shipping 3.2m tonnes or 66 per cent of total exports, followed byby Greece (357,000 tonnes), the Netherlands (296,000 tonnes) and Italy (252,000 tonnes).
Citrus imports stood at 6.7m tonnes in 2018, dropping by 6 per cent against the previous year, driven by countries including France, Germany and the Netherlands.