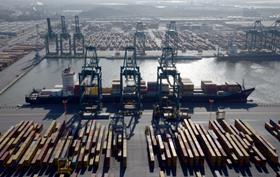 Luc Arnouts, VP International Relations & Networks at the Port of Antwerp, struck a cautious yet positive note during a webinar on the impact of the coronavirus crisis and the Belgian port's continuing response.
"It is vitally important to keep the ports running," he said, "and you can rely on the Port of Antwerp to do just that."
Indeed, whereas the movement of most citizens in Belgium is strictly limited at the present time, ports and logistical facilities are considered to be essential for the supply of necessary products.
In Europe, he explained, borders are closed for passengers, but not for goods, and with a certificate of employment, workers in critical sectors can pass freely.
The EU has also activated its system of Green Lanes for freight transport, he said, allowing trucks to cross borders within a pre-arranged 15-minute slot.
"A shortage of truck drivers could occur at some point," warned Arnouts, "but then the alternatives are there. Barge, rail, short-sea shipping – all continue to work as normal."
The railways even offer a greater cargo capacity, he explained, due to the reduction in passenger services. "There might be some shift in transportation means," he predicted.
Although the Port of Antwerp has so far seen no impact from the crisis in terms of numbers, with volumes perhaps even rising slightly year-on-year in the last three months, the effect is expected to be felt during the second quarter.
According to Arnouts, the Port of Antwerp is anticipating 37 blank sailings from East Asia. "This will impact on volumes coming into the port in the coming days," he cautioned.
On a more positive note, he revealed that sales of longer shelf-life food items were growing, while e-commerce was booming. "Stocks are building up in and around the port, but there is sufficient storage capacity at the port and at inland terminals," he said.
According to programme manager Edward De Broe, the Port of Antwerp Covid-19 Taskforce, made up of the main stakeholders in the port organisation, has been set up to monitor day-to-day operations and agree on additional measures to be taken.
"The port is 100 per cent operational, and the absence of workers due to sickness is very low," he said. "We are following the preventive measures imposed by the Federal Department of Health, on hygiene, social distancing and use of cleaning products."
Meanwhile, daily crisis communication meetings are held to ensure rapid, transparent and proactive communication. "It's important that we prevent the spread of both the virus and misunderstandings about the virus," said Arnouts, adding that international cooperation was also a crucial element.
"Connections with other ports are being made to exchange experiences and learn from each other," he said. "The IAPH (International Association of Ports and Harbours) has installed a Covid taskforce, and the Port of Antwerp is part of that."
In the longer term, Arnouts said that efforts to build resilience throughout the supply chain would be essential. "You can't prevent a crisis like this," he said, "but you can build the resilience to be able to react quickly to changing circumstances."
Supply chain managers around the world were reviewing their systems, he continued. "We have become too reliant on a limited number of suppliers from a limited number of origins," he said.
Perhaps, he suggested, the crisis could lead to both increased local production and increased complexity in supply chains, as companies sought out more sources to reduce their dependence.