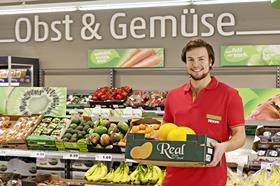 German retailer Rewe Group's fresh produce sourcing subsidiary Eurogroup is reportedly pushing ahead with an ambitious plan to establish a network of distribution hubs that will enable it to acquire fruit and vegetables and deliver them to market more quickly and directly.
Speaking in an exclusive interview with Lebensmittel Zeitung, Eurogroup's chief executive Eugenio Guidoccio said a major and widespread reorganisation of sourcing and logistics over the past four years had been a "quantum leap" for Rewe and its discount chain Penny.
That leap has seen it build new central distribution centres for produce in Leipzig, Berkhof near Hannover and Eitting near Munich over the past three and a half years; now it plans to complete two more of these hubs including one in Wiesloch, in northern Baden-Württemberg, that will also serve as an entry point for Spanish and French produce.
'In food retailing, competition in this volume business is increasingly playing out at the level of supply chain management,' Guidoccio told the newspaper. 'The more complete trucks that go directly to the hubs, the greater the effect for our merchants.'
Similar networks for southern and eastern Europe, apparently designed to perform similar sourcing and logistics functions for stores in Austria, Bulgaria, Czech Republic, Hungary, Italy, Romania, Russia, Slovakia and Ukraine, are also planned, with pilot projects already underway in Verona and Prague.
Eurogroup itself currently has offices in Italy (Verona), Spain (Valencia) and Germany (Langenfeld).