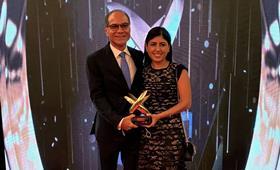 Ecuadorian banana producer and exporter Reybanpac has won first place in the category of 'Large exporting company of traditional goods' at an award ceremony held by Fedexpor, the Ecuadorian Federation of Exporters.
Nominated companies were assessed by the Evaluation Committee in terms of their "growth in exports, job creation, sustainable and environmental practices, social responsibility, investment in innovation and infrastructure for the improvement of processes, certifications and market diversification", with the whole process audited by Grant Thornton.
Reybanpac, with its flagship Favorita banana brand, exports over 27m boxes a year to a total of 26 destinations, principally the EU, Russia, the Middle East and Asia.
In August of this year, the company announced that it had reached a new milestone in its environmental efforts, obtaining carbon neutral certification for its banana operations, "from cradle to gate".
"We work every day motivated towards excellence and sustainability," said CEO Vicente Wong. "We are proud of our product and of the great team that makes it possible for millions of families around the world to enjoy the best bananas. We thank Fedexpor for this recognition that encourages us to continue giving the best of ourselves with responsibility and passion."