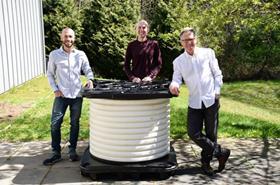 Post-harvest specialist Ripelocker has announced it has raised US$5m in series B capital from so-called 'angel investors'.
Ripelocker said that the investment round was drawn from previous investors in the company, many of whom were renowned in the agriculture industry, including academics, agriculture executives and growers/packers/shippers.
The new funds will be used to continue to enhance the company's Ripelocker containers, utilise the precise operating data the company has accumulated after years of trials, and manufacture the containers for commercial availability for select clients this summer.

RipeLocker's low-atmosphere containers are used for storing and shipping fresh produce and flowers, and extending their post-harvest life 'by weeks, often months'. The containers are are pallet-size, made from recycled materials and are reusable.
Trials completed
The company said that it had already completed efficacy trials with several high-value commodities such as berries, pomegranates, cherries, papayas, fresh hops and flowers.
"Over the past few years, we have been actively working with some of the largest growers in the world to test our Ripelocker containers,' said George Lobisser, founder and CEO of Ripelocker. 'We are the only company with the data as to how perishables respond under low-pressure vacuum over long periods of time to delay senescence (aging) and decay.
"This infusion of significant new capital enables us to leverage this data, begin manufacturing the commercial product and scale the company to meet the increasing demand from global and national produce and flower growers,' he added.
Ripelocker also revealed that the US Department of Agriculture has started trials using the Ripelocker container as a chemical-free quarantine replacement.

How do they work?

Ripelocker containers offer a unique, patented system to precisely manage the atmosphere (oxygen, pressure, CO2 and humidity) within the containers to extend the life of perishables.
Based on the specific needs of each type of fresh produce or flower, Ripelocker tailors these operating parameters to optimise longevity and freshness.
The system also responds to changes in the storage or shipping environment, making precise adjustments to prevent damage and reduce decay.

The company said that it designed its containers so that they can easily be deployed and used in the existing cold chain.
They are pallet-size, stackable and 40 of them fit into an ocean or truck reefer (refrigerated container).