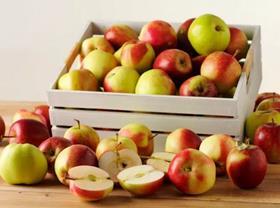 RP Frukt, one of Sweden's leading fresh produce companies and a subsidiary of the foodservice supplier Martin & Servera, is preparing to open a brand new coldstore and packhouse facility in the the south of the country to extend the season for fresh apples and offer better supply of fresh convenience products.
Located around 90km north of Malmö in Hässleholm, the facility will be officially opened on 21 October. Equipped with modern ultra-low oxygen storage technology that can suspend the fruit's ripening, the centre is set to provide an important new route to market for apples grown in Sweden's southernmost county Skåne.
The addition of this sixth packhouse is said to mark an important step in the development of the country's fresh produce business, enabling growers to sell their fruit to customers in the restaurant trade for most of the year.
"We are glad to be using new technologies to offer our customers Swedish apples almost year round," commented Magnus Larsson, chief executive of RP Frukt.
Apart from apples, the new centre will also be capable of processing various fresh-cut products, including chopped onions, orange segments, sliced tomatoes and bagged salads.
"The new facility allows us to offer a wide range of pre-cut [items]," Larsson continues. "These products also have the advantage of being consistently high quality and minimising waste, which we know our customers appreciate."