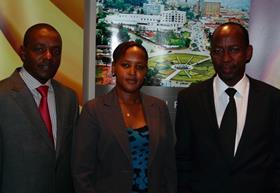 Rwanda's government is set to launch a new brand for fruit and vegetables which, along with a promotional drive, will seek to present the east African country as a viable and competitive source of fresh products and an advantageous location for investment.
The brand, named 'Rwandaful', is expected to be officially launched next month and the country hopes its debut will help to highlight the range of products, including passionfruit, mangoes and oranges, that the small nation produces.
The Rwanda Development Board (RDB) and the Rwanda Horticultural Development Authority (Rhoda) have been set up by the government to help stimulate growth and investment in a sector, which they argue has advantages over other east African regions.
According to the agencies, Rwanda's mountainous terrain and wet climate mean that it is effectively able to produce fruit at different altitudes all year round, while its location at the equator helps deliver products with a high sugar content.
Speaking at an event in Brussels designed to attract new investors to Rwanda, Rhoda's director general, Magnifique Nzaramba, said he was confident that the country had the potential and drive to succeed in the sector and put its troubled past behind it.
"We have a history, but the best way to learn from it is to draw lessons from it in terms of economics," he told Fruitnet.
Mr Nzaramba said Rwanda's government had identified horticulture as a "key growth industry and so was putting in place a number of measures to stimulate development and investment, including the building of a new wholesale market in Kgali.
With the help of investment from the World Bank, USAID, the European Union and other sources, he said the Rwandan authorities had also set aside 15,000ha of land for horticultural development, while new road links were also being constructed.
To attract outside investment in the sector, he added that Rwanda had decided to permit 100 per cent foreign ownership of new ventures in the country, while overseas workers would not be required to hold a visa for their first year in the nation.