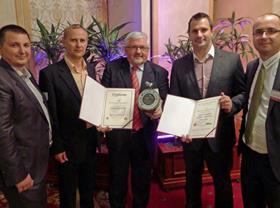 Dutch vegetable group Rijk Zwaan has revealed that its Salanova lettuce variety was recognised as 'Product of the Year' in Poland at the country's Fresh Market Fair and Conference, which took place in Warsaw on 28 September.
'Our ambition is to further increase the awareness of Salanova's benefits with our business partners – ease of preparation, a very good flavour and a great diversity,' said Przemek Opiola, managing director of Rijk Zwaan Poland. 'Winning the Fresh Market Award is an excellent impulse for this.'
Salanova has already gained a strong foothold in Poland since being launched there four years ago. Retailers sell the product in single or double packs – which contain both a red and a green head – offering consumers a combination of freshness andconvenience.
'It was confirmed that Salanova is still relatively unknown with consumers, but also that the product is welcomed by them with great enthusiasm,' Opiola added. 'This only underlines the great potential that Salanova has.'