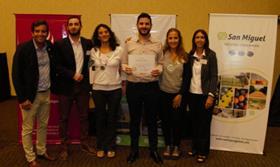 San Miguel has once again teamed up with Inicia, the Argentine association for the promotion of responsible business, for the second edition of the Eureka Awards.
The awards are open to entrepreneurs and start-ups from Argentina and Uruguay who develop innovative processes in the fruit and vegetable production chain.
Their ideas must relate to one of three areas: new technologies for citrus production; intelligent processes that impact the measurement, optimisation and improvement of processing plants; or projects that have a positive economic, social and/or environmental impact.
Thirty-six proposals were submitted to the inaugural Eureka Awards in 2019, of which three were chosen as winners and two received special mentions.
The entrants covered a wide range of areas, including renewable energy, precision agriculture, early detection of HLB, drones and robots for food dehydration among others.
For this edition, projects must be related to innovating or improving processes in at least one of the link in the agrifood value chain, such as genetic improvement, production, good management practices, harvesting, logistics and distribution, added value, derived industries or marketing. Projects directly related to the citrus sector will be given special consideration.
They will be judged by a jury made up of experts from San Miguel and other business leaders.
"After the first edition of the Eureka contest received a satistfactory balance in terms of participation, interest and results, we are proud to once again be able to not only give visibility to those entrepreneurs who are thinking of agriculture as an area of ​​application of new technologies that will revolutionise the sector, but also find opportunities to enhance their impact and collaborate together," said Federico Viola, global technology manager at San Miguel.
The winners will receive seed funding of up to US$800,000, as well as practical help in promoting the development of their projects.
Entrants have until 15 February to submit their entry, with the selection of the 15 finalists announced on 28 February.
A series of workshops will be held in March before an awards ceremony, pictching and demo day on the 30 March.