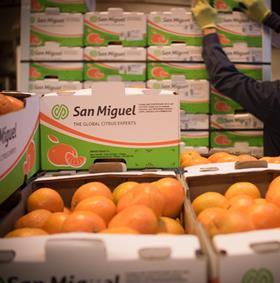 The spread of Covid-19 to Latin America and Africa has come at a critical time for San Miguel. Having arrived just as it was preparing to harvest the 2020 citrus crop, the company faces a steep learning curve as it forges ahead with its export programmes while striving to keep its workers safe.
"As fruit production is classed as an essential activity, we're going ahead with harvesting in Argentina, Peru, South Africa and Uruguay, but clearly we face an enormous challenge to maintain supply while at the same time protecting the health of our workers in this complex situation," said Alejandro Lucas, San Miguel's executive director of fresh fruit.
As soon as the first cases of Covid-19 began to appear, the company formed a Global Citrus Committee to coordinate with local teams and prepare a protocol to prevent contagion throughout the supply chain. The protocol is adapted to each country of operation and includes specific measures on social distancing, hygiene controls and home working amongst other things.
San Miguel has also teamed up with producer associations and unions like the Argentine Northwest Citrus Association and Union of Rural Workers and unions to agree on common health and safety and health guidelines to protect workers.
With regard to logistics, Lucas confirms that while things continue to function, access controls, restrictions on movement and stricter documentation requirements are causing some delays and complications.
The company maintains a constant dialogue with carriers, shipping companies, ports and phytosanitary control authorities and is developing action plans to anticipate possible scenarios so that it can respond swiftly should any problem arise.
"We know that this crisis is changing constantly and it is difficult to predict how it will evolve. We are learning and adapting quickly so that our products continue to reach the homes of the world, with the same quality as always and to ensure the sustainability of the company," Lucas continues.
"We'll have a better idea of how the pandemic impacts our season in the coming weeks, but what I can say is that so far we've seen firm demand for fresh products, so we remain quite optimistic."
Indeed there is strong evidence to suggest that demand for citrus has risen in recent weeks as consumers turn to products high in Vitamin C that will boost their immune systems. Citrus has the added advantage of having a relatively long shelf-life and being perceived as good value in relation to other more expensive but less durable fruits.
Lucas believes there are opportunities for different products to do well in different markets. "In Asia, which is slowly returning to its usual rhythm, we expect to increase our shipment volume, especially in South African Navels and Valencias and Peruvian mandarins," he said.
"US consumers, meanwhile, are more accustomed to eating soft citrus at home, and here too, we're seeing increased consumption so there's potential for our Uruguayan and Peruvian mandarins to do well.
"Finally in Europe, where lemons are a common part of the diet, especially in Mediterranean countries, we're seeing higher consumption than in previous years, so we must plan our harvest, packaging and logistics to the best of our ability to be able to send our lemons in a timely manner."
The company is under no illusion as to the scale of the challenge posed by keeping markets well supplied during the pandemic. Lucas points out that the extra security measures will not only increase costs significantly, but also slow down the supply chain, potentially impacting prices and volumes.
"It will take a long time for the global situation to return to normal, but as an essential industry we must ensure that we can keep supplying our fruit to the most demanding markets and customers on the planet," he said.
"Coronavirus is impacting all sectors of the economy. It is essential that leaders around the world take appropriate measures to care for people as a priority, but at the same time find the balance to sustain the engine of global trade, which is what will continue to sustain the current system."