Company teams up with the cooking app Kitchen Stories for third time to celebrate a vegan January
SanLucar has once again teamed up with the Kitchen Stories cooking app to encourage German consumers to eat a plant-based diet for the month of January in its Veganuary campaign.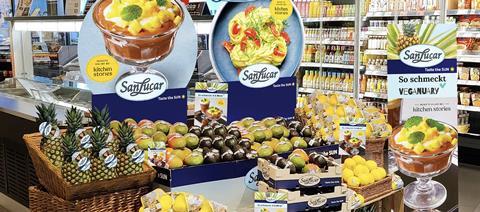 For the whole month, SanLucar's mangoes, avocados, seedless lemons with edible peel, pineapples, and olive oil will be sold in German supermarkets alongside downloadable vegan recipes from the Kitchen Stories cooking app.
The recipes, which include spaghetti with creamy avocado-lime sauce and avocado-citrus salad with nut pesto, are designed to whet consumer appetites for vegan food, whilst being good for people and nature.
"Our vision is to bring everyone natural joy of life and health. This is exactly what we want to push even further with this Veganuary campaign. Trying out new recipes, using our fruits and vegetables is not only fun but also leaves you with fantastic tasting dishes," said Nuria Pizán, brand and creative director at SanLucar.
The campaign will feature top signs, display stands, and recipe folders at points-of-sale, while secondary placements also aim to attract customers and boost sales.
"Our two previous campaigns with the cooking app Kitchen Stories have already been a huge success," Pizán continued.
"With the last Kitchen Stories campaign, we reached 31.8m contacts and achieved 83 per cent more sales through the Kitchen Stories secondary placements."