Disney movie takes the spotlight in the new promotion at point of sale in Germany and Austria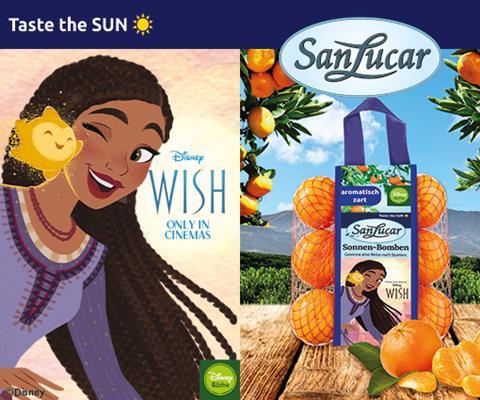 SanLucar is launching a promotional campaign in German and Austrian supermarkets based on Disney's new movie, Wish, which transports the audience to the magical kingdom of Rosas, home of the film's 17-year-old protagonist, Asha.
The highlight of the campaign will be a raffle of a trip to Valencia for four people. The winners will not only enjoy sun, beach, city, and sea, but also a guided tour to the fields where SanLucar fruit is grown. There, they will learn about the cultivation methods of the premium brand in detail.
SanLucar clementines, oranges, grapefruits, lemons, avocados, mangoes, and pineapples will carry eye-catching Wish stickers and retailers will be provided with extensive sales material such as top signs, display stands and sales folders. The campaign will be flanked by social media activities on Instagram, TikTok and Facebook.
"Wish is a story for the whole family," explains Nuria Pizán, brand & creative director at SanLucar. "Our fruit will whet the appetite of film lovers, both adults and youngsters."
SanLucar said it has long been committed to a balanced diet for children and supports parents in their efforts to ensure that their kids eat healthily.