The programme aims to ensure equal and quality education for the children of Puebloviejo, Ecuador
SanLucar has won the 14th RS/Global Sustainability Week award. The prize recognises corporate social responsibility practices with the aim of inspiring other companies to become more sustainable and socially responsible.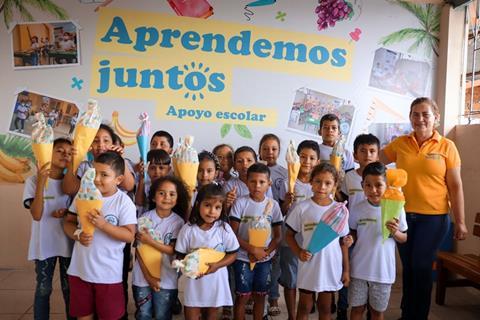 SanLucar received the award for its 'Learning Together' school support programme which seeks to minimise the academic differences that, for various reasons, occur among the children of Puebloviejo, Ecuador where the firm's banana farm in located.
"The school support programme was born during the pandemic when it became clear that many children lacked access to computers or internet and were unable to follow the online classes given during the lockdown," said Nancy Daiss, the company's project manager and CR manager international.
"Today we are carrying on with the project considering the existence of other learning barriers for the children, such as belonging to dysfunctional families or missing homework support.
"We are very grateful for the recognition of this award, and we would like to extend it to the Miguel Suárez Seminario School and the Reina de Belleza de Ecuador, who have accompanied us from the beginning in the project."
Currently, 80 children between the ages of 8 and 14 in the municipality of Puebloviejo benefit from the programme, which reinforces their knowledge in subjects such as language and mathematics, as well as improving other competencies like social skills.
The classes also contribute to creating a routine and discipline in the children's learning, as well as transmitting values such as team spirit and respect.
The programme includes different workshops such as nutrition, as well as a Christmas party for the participants.
"It is a great satisfaction for us that 12 students have already reached the optimal level to graduate and leave school support for good," Daiss said.
The "Learning Together" initiative is part of SanLucar's commitment to the United Nations Global Compact and its Sustainable Development Goals, and forms part of the company's corporate responsibility programme DREAMS.