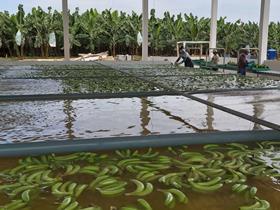 Ecuador's most westerly point, the Santa Elena peninsula, is fast becoming a hub for the country's organic banana production thanks to the favourable climate and an abundance of virgin land.
Planted area has grown steadily in recent years, particularly in the southern part of the province, according to a report in El Universo.
Figures from the Ministry of Agriculture show there are 1,941ha of bananas, of which 1,537ha are dedicated to organic cultivation. However, with the addition of unofficial plantings the figure could be closer to 3,000ha.
Richard Salazar, executive director of Acorbanec, said the organic bananas are exported mainly to Europe and the US.
FrutaSiete cultivates organic bananas near the El Azúcar desert area to the south of Santa Elena, which it ships to the US, Canada and the European Union. It also exports kosher bananas to Israel.
According to manager Jackie Eldan, says yields tend to be lower than in conventional bananas, with 2,000 boxes per hectare per year considered to be a healthy productivity level.
The company has been incorporating new techniques to bring production processes in line with the standards required by the international market.
This includes the construction of washing pools with surgical-grade stainless steel edges in order to avoid the presence of fungi, a method also adopted by other producers in the area.