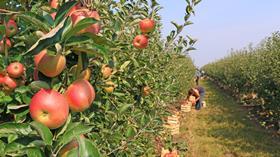 Leading Indian fresh fruit importer, IG International, has announced the first shipment of Serbian apples will land in India in mid-November, marking a milestone for the premium Pannonian apple variety.
IG has entered into an association with the Cooperative of Pannonian Apples (COPA), Serbia's leading global apple exporter, to import premium Serbian apples.
COPA is a newly founded cooperative created by merging Juni Banat and Atos Fructum, two Serbian companies involved in apple production. It was founded with the desire to offer premium Pannonian apples to foreign markets.
IG director, Tarun Arora, said the importer has always been focused on bringing the best quality of global and exotic fruits to India.
"We are driven by a commitment to offer the best to the palate and diets of Indian fruit enthusiasts, and we are pleased to now source apples from Serbia for our Indian customers," said Arora.
"This move is aimed at meeting and exceeding the expectations of Indian consumers in terms of taste, quality and value."
Taizun Patheria, honorary consul of the Republic of Serbia, said the first shipment was a milestone for both countries.
"The Honorary Consulate of Serbia presents its compliments to IG International and is happy to announce the first export of apples from Serbia is expected to reach India mid-November 2020," he commented.