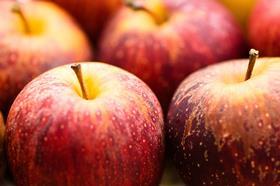 The World Apple and Pear Association (WAPA) has released its 2022 apple and pear crop estimate for the Southern Hemisphere, forecasting a fall in volumes across both categories.
At WAPA's AGM, the association predicted Southern Hemisphere apple volumes would drop 7 per cent to 4.86m tonnes, with pears falling 6 per cent to 1.23m tonnes.
Apples
Apple numbers are expected to be down from 5.22m tonnes in 2021, mainly due to the 30 per cent decrease in Brazil and the 11 per cent drop in Argentina.
Australia and Chile are also set to decrease their production by 3 per cent and 2 per cent respectively.
New Zealand and South Africa are the only countries where apple production is expected to increase, with growth of 15 per cent and 4 per cent apiece.
Chile is expected to remain the largest Southern Hemisphere apple producer in 2022 with 1.46m tonnes, followed by South Africa (1.16m tonnes), Brazil (900,000 tonnes), New Zealand (590,000 tonnes), Argentina (445,000 tonnes) and Australia (311,000 tonnes).
At 1.71m tonnes, Gala remains by far the most popular variety, although its production is expected to decrease by 7 per cent year-on-year.
Despite the decrease in production, exports are predicted to remain stable overall at 1.74m tonnes, with the larger volumes exported by New Zealand (up 17 per cent) and South Africa (up 6 per cent) compensating for the 65 per cent decrease in Brazilian apple exports
Pears
Southern Hemisphere pear production is forecast to slide with falls of 13 per cent in Argentina, 11 per cent in Chile and 6 per cent in Australia.
New Zealand and South Africa, on the other hand, are expected to increase their production by 31 per cent and 5 per cent respectively.
Argentina remains the largest producer in the Southern Hemisphere with 522,000 tonnes, followed by South Africa (492,000 tonnes), Chile (122,000 tonnes), Australia (81,000 tonnes) and New Zealand (11,000 tonnes).
Packham's Triumph is the most produced variety at 444,000 tonnes, despite a 4 per cent decrease on 2021.
Export figures are expected to decrease by 6 per cent compared with the previous year to a total of 641,207 tonnes, mainly because of a 14 per cent decrease in Argentinian exports.
"This forecast is released for the global apples and pears sector on the background of many uncertainties, including the geopolitical tension, the increasing costs for production, the impact of the rise of logistic costs and limited container availability, labour shortage and the increasing concerns of declining consumption due to economic situation,' said WAPA's secretary general Philippe Binard.
The report was compiled with the support of Asoex (Chile), CAFI (Argentina), ABPM (Brazil), Hortgro (South Africa), APAL (Australia) and New Zealand Apples and Pears.
Northern Hemisphere stocks
WAPA also outlined that, in the Northern Hemisphere, apple stocks in the US stood at 1.48m tonnes, down 1 per cent compared with last year. Pear stocks in the US stood at 149,553 tonnes, up 32 per cent, on the 1 February.
In Europe, apple and pear stocks came in at 3.61m tonnes, growth of 7 per cent on 2021, and 408,340 tonnes, down 30 per cent, respectively.
"Season developments clearly demonstrate the impact of logistics and costs on international trade also for Northern Hemisphere suppliers, with the US concentrating sales for apples and pears in North America,' Binard noted.
'European markets continue to be affected by the Belarus embargo, while the recent developments in Ukraine will also impact sales to all the destinations in Eastern Europe, including Russia, for all global apples and pears suppliers,' he added. 'It is important to continue building efforts to stimulate the consumption."