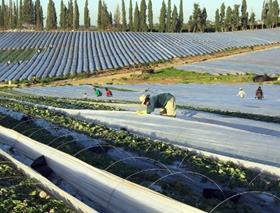 Israel has seen a decline of 21 per cent in the turnover of agricultural exports during the first quarter of 2009, compared with the corresponding period last year.
According to figures published by the Ministry of Agriculture and rural Development, the total value of agricultural exports through the period stood at US$381m (€272.6m), down from US$486m (€347.8m) in 2008.
Individually, the fruit sector recorded a turnover of US$92m (€65.8m), which represented a drop of 9 per cent compared with the previous year, with the citrus sector's turnover totalling US$59m (€42.2m).
The areas of agricultural exports that recorded the lowest turnover decline were vegetables and field crops, coming in at US$200m (€143m) and US$185m (€132.4m) respectively – meaning a total reduction of 19 per cent.