Teresa Molina, head of technology at PolyNatural, outlines the benefits of the company's 100 per cent natural and certified organic solution
Firstly, can you tell me about Shel-life? What advantages does it offer compared to other plant-based coatings on the market?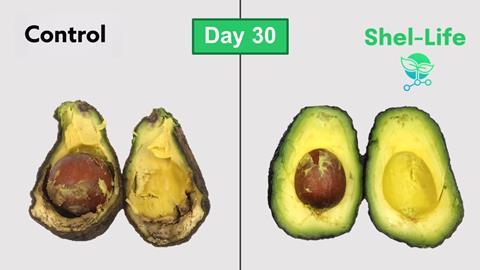 Teresa Molina: Shel-Life is a plant-based coating for extending the shelf-life of avocados, pome Fruits and stonefruit. It is invisible, washable, odourless, and does not provide any glossy appearance to the fruit, just a natural shine. As a protective film, Shel-Life reduces the respiration rate of the fruit, so that it slows dehydration and decay processes, while keeping the firmness, the colour, and a suitable appearance of the fruit without affecting its taste.
The main differences with other coatings are that it is easy to apply onto the fruit surface after harvest – using a sprayer or rotator system installed in the processing line; it is compatible with controlled atmosphere and forced ripening technologies; the price can be up to three to four times less expensive than other products, and it complies with FDA and EC Food Additives regulations.
What shelf-life extension can you typically achieve in avocados, and in other products?
TM: Specifically for avocados, Shel-Life extends the number of days before fruit ripens in a range of 2 to 4 days, compared to untreated avocados. The shelf-life extension in avocados depends on different factors such as the dry matter content, days at cold storage under controlled atmosphere (CA), and whether forced ripening is applied or not after storage.
When was Shel-Life launched and where is it currently being used?
TM: We launched Shel-Life Avocados in 2021, after a rigorous scientific validation with a renowned research centre, Instituto de Investigaciones Agropecuarias (INIA), which has more than 20 years of experience in research about fruit physiology and postharvest technologies. During that year, we also carried out commercial tests in different countries, such as Chile, Peru, Colombia, Mexico, New Zealand, and some EU countries, with consistent results among them.
Is Shel-Life certified for organic fruit and vegetables in the European Union and US?
TM: Shel-Life for avocados, pome fruits and stonefruit can be used in organic fruit and vegetables because it complies the USDA's organic regulations. In addition, due to current organic recognition agreements that Chile maintains with the European Union, Switzerland and Brazil, fruit coated with Shel-Life can be sent to these countries.
The plant-based coatings market is becoming very competitive. How difficult is it to compete in this landscape? How do you think the plant-based coating market will evolve over the coming years?
TM: Nowadays, several coatings are available in the market. They are used on fruits and vegetables for extending their shelf life, while being environment friendly, and their formulations mainly comprise polysaccharides, proteins, lipids, and composite. Among the lipids commonly applied to coatings are paraffin wax, microcrystalline wax, synthetic wax, polyethylene wax, and mineral oil. Consumers' growing concerns about what they are actually eating has been moving their choices to favour clean labels, natural, organic and fair-trade certified products. Therefore, consumers are pushing the food industry for additives that comply with their demands, so that plant-based coating should evolve over the coming years.