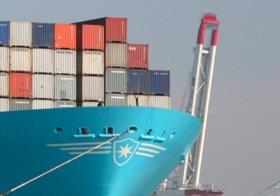 Danish shipping giant Maersk is pulling out of the current industry price war and hiking its rates, according to CEO Nils Anderson.
Speaking to Reuters, Anderson said the group was breaking with conventional thinking and working to maintain rather than increase market share.
'It may be a little new to industrial thinking, but we just can't afford to go into a price war because the general market is going down,' he told the news service.
Cargo shipping rates from Asia to Europe fell by around 8 per cent during June and 14 per cent in July due largely to continued troubles with Europe's economy.
'We see the US actually being in recovery ahead of Europe, though that doesn't mean it will return to the glory days,' he said.
'People are worried and there's good reason for that, because the economies are over-leveraged.'
Anderson told the news source that increasing consumer spending power in emerging markets would help drive growth long-term. However, problems in the US and Europe were hampering growth in the interim.
Maersk Line posted a profit of US$227m on revenues of US$7.3bn in the second quarter of 2012 reporting losses in the first quarter and in fiscal year 2011, according to its quarterly report.