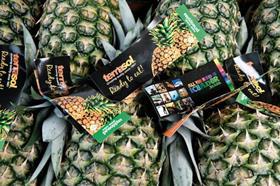 French exotics producer and importer SIIM, a subsidiary of the Omer-Decugis Group, has revealed that it will pack its Extra Sweet Terrasol pineapples in IFCO crates, to be sent to European customers directly from its packhouses in Ecuador.
The announcement came after the conclusion of a test phase launched six months ago, as well as the company's successful experience with bananas back in 2018.
The aim, it said, was to better preserve the quality of the company's pineapples on arrival in Europe.
It will also optimise logistics, including at the company's new packing platform in Rungis, where a coldroom has been specially designed, with air heaters and air guidance systems, so that the pineapples retain their freshness and taste.
'Packing our pineapples in reusable and recyclable IFCO crates, which are recognised for their strength and optimal ventilation, is crucial,' said Vincent Omer-Decugis, CEO of SIIM. 'It improves the supply chain and preserves the quality of our products, while helping us to meet our CSR and environmental commitments.'