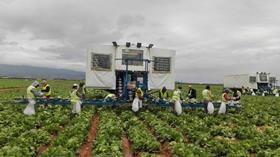 Exports of Spanish fruit and vegetables to the UK fell 7 per cent in January compared to the year-earlier period to 153,863 tonnes according to Fepex.
It said the decrease was due largely to the residual effects of last December's lorry blockade sparked by the new coronavirus variant, and the impact of storm Filomena on production.
Overall, Spain exported 1.2m tonnes of fruit and vegetables in the first month of this year, a drop of 7.4 per cent year-on-year.
The value of shipments remained virtually unchanged, dipping 0.16 per cent to €1.488bn.
Vegetable exports for the month showed the biggest decrease, falling 12.5 per cent to 628,503 tonnes. Fruit shipments were down 1.7 per cent at 627,252 tonnes.
Fepex said exports were down across virtually all categories, including peppers, lettuce, cucumbers and tomatoes.