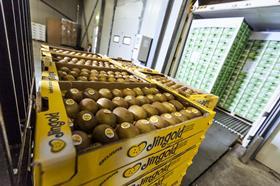 International kiwifruit distributor, Jingold, has reported a smooth start to the 2020 season, with fruit reaching major Asian markets, including China, without much disruption.
Based in Italy, Jingold is the main exporter of Chilean grown gold kiwifruit (Jintao variety) to China.
General manager of Jingold China, Harry Xu, told Asiafruit the company's active strategy adjustment has allowed it to navigate the drought in Chile and the global Coronavirus (Covid-19) pandemic relatively smoothly.
'To avoid uncontrollable situations like supply delay due to complex factors such as epidemic conditions, our shipments this season are earlier and more concentrated than before. Currently, shipments in Asian markets such as China are relatively stable,' said Xu.
He also noted the total supply to China this season is expected to remain the same as last year.
It has been reported Jingold has introduced alternate work schedules in Italy and Chile to reduce the risk of spreading Covid-19 among its workforce. It has also moved most of its meetings to a digital platform.
In its Chilean packaging plant, precautions such as disinfection and temperature measurement have also been implemented.
'So far, Jingold's packaging plant in Chile has completed the planned volume, and it is expected that there will be no delay in arrival this season,' noted Xu.
According to Jingold, in order to better manage domestic distribution and prices in China, and to uniformly allocate the volume of goods, it has been importing the fruit through its Chinese import service since 2017. Xu pointed out the sales and prices in the Chinese market have remained stable this season because of this.
Although Chile's overall output has dropped this season, the quality of kiwifruit has improved, said Xu.
'The average dry matter level of this season's fruit is higher than last year, and the taste can better reflect the strong tart-and-sweet contrast of Jingold's Jintao variety," he said.
"While meeting the taste requirements of consumers, it also maintains the nutritional value of kiwifruit and reinforces the message that it is the 'King of Vitamin C'."
Jingold is looking to make improvements in detail control and is hoping to cooperate with ripening service providers to reduce fruit hardness in early stages.
In order to cater to the new consumer trends in the Chinese market, Jingold has also introduced convenient and small retail packages that have a hollow design, aimed at reducing plastic.
Speaking of the sales strategy this season, Xu said Jingold is currently focusing on the middle-class and working-class consumers in the Chinese market.
He added the company won't be deliberately pursuing high prices, instead ensuring distribution focuses on the second-tier city markets and the first-tier cities' mid-tier channels in China.
This article will feature in the upcoming edition of Asiafruit June.Subscribe today via the online shop or by contacting subscriptions@fruitnet.com.Asiafruit is now available to read on your phone or tablet via our new app. Download it today via the App Store or Google Playand recieve a two-week free trial, along with access to previous editions.