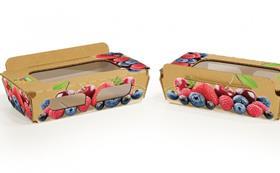 Sustainable packaging specialist Sofrupak has focused its efforts on improving the visibility of the products inside its packaging range.
According to commercial manager Adam Sikorski, the group now offers SoFruMiniPak EcoView+ packaging with a larger cellulose window on the side, meaning a clearer view of the fruit within.
"This difference in size is especially visible in small packages of 125g," Sikorski told Fruitnet. "In 250g-500g capacities, we have redesigned the shape and now we have two larger cellulose windows."
Since February, the Polish company's customers have been able to order packaging with innovative offset printing and a white double underprint directly on brown natural craft paper. This creates an "amazing effect", Sikorski said.
"These novelties make our packaging offer more attractive, helping to distinguish the fruit even more on the store shelf and attract the attention of consumers," he explained.
Sofrupak spent the winter months modernising its machinery park. This meant increased automation – the result being that the company did not have to increase prices during the 2021 season, despite the rising costs of raw materials.
"We offer packaging in our innovative PlasticFree Technology, for the production of which we use renewable raw materials as well as water-based paints and adhesives," added Sikorski. "This is why our packaging is 100 per cent biodegradable after only 24 weeks."