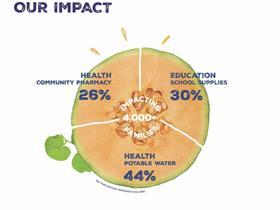 Fyffes-owned melon specialist Sol Group has said that it is aiming to drive growth in the category while raising awareness of the positive impact Fairtrade has on local growing communities in Honduras and Guatemala.
The group, the largest grower and shipper of Fairtrade-certified melons in Central America, said that a premium is invested in community development every time a Fairtrade melon is purchased – tying in with the fact that more and more consumers are interested in purchasing products that benefit workers in the regions where they are sourced.
According to a recent statistic from the Natural Marketing Institute, more than one in three consumers are more likely to buy a product with Fairtrade certification.
Additionally with 75 per cent of millennials stating Fairtrade as an important factor in their purchase decisions, retailers – now more than ever – have further motivation to include Fairtrade offerings in their stores. This trend provides retailers with a business opportunity to invite socially conscious consumers to shop in their stores while supporting efforts to empower growing communities.
According to Sol, workers on its farms benefit from 'life-changing programmes' that enhance the well-being of their community.
Projects range from providing families with access to clean water and affordable healthcare to programmes that benefit children with school supplies and essential necessities.
Since 2014, these initiatives have benefited over 4,500 families in the company's growing regions in Honduras and Guatemala.
"Our position as the largest grower and importer of Fairtrade certified melons in the US has strengthened our impact across our growing regions in Central America," said Enda Walsh, president of Fyffes Inc. "While working alongside our dedicated teams in Honduras and Guatemala, sustaining our partnerships with our workers and investing in the future of the growing communities remains true to our company's core values."