South Africa's late table grape region in the Hex River Valley is expected to conclude its harvest by the end of March
The South African table grape industry (SATI) has further reduced its export prediction following a lower-than-expected harvest in the biggest growing region, the Hex River Valley.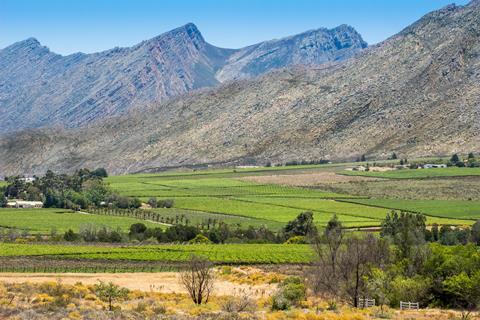 "We anticipate that overall harvest volumes will be approximately 18.2 per cent lower than volume recorded in the 2021/22 season and will also be 11.4 per cent lower than the original estimate," said SATI.
Growers in the Hex River Valley have also now indicated that they will be concluding their harvest earlier this year compared with last season, when it ran into April.
"The revised crop indicates that a total of approximately 63.6m cartons (4.5kg equivalent) will be inspected for export, with the upper limit projected at 103 per cent and the lower limit projected at 97 per cent of this figure," the industry body stated.
SATI noted that the main reason for a further decrease in the national crop estimate was due to lower yields packed in the Hex River Region to date, as well as lower yields expected for remaining cultivars in the Hex River Valley.
"The crop estimate for the Hex River Valley has therefore been adjusted to 20.64m cartons. This represents a reduction of 3.33m cartons or 13.9 per cent compared to the previous estimate."
Figures for the Orange River Region and Northern Regions at the conclusion of the season were 16.4m and 5.6m cartons respectively, SATI reported.
"The current crop estimates for the Olifants River Region (3m cartons) and the Berg River Region (17.9m cartons) remain unchanged."
The latest prediction indicates that South African table grape growers had another tough year, following on from a 2021/22 campaign where cost increases and logistical problems caused major disruption.