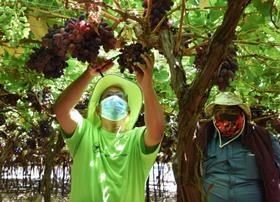 A long awaited South African table grape promotion is becoming a reality with the confirmation that the first consignments have left the country's shores, headed for China.
The Chinese campaign is due to kick off in the middle of March and is designed as a pilot study before it is expanded in coming years.
The promotion part of a strategic partnership between South Africa's table grape industry and the Western Cape Department of Agriculture (WCDoA,) and aims to increase market access for table grape growers in the East.
Western Cape agricultural minister, Ivan Meyer, said that one of his ministerial priorities was market access. "The strategic partnership with SATI is aligned to this. The aim is to increase exports of Western Cape agricultural produce by 5 per cent over the next five years."
Meyer was present to view the packing of the special consignments to China at farms in the Western Cape.
One of the grape exporters, supported by both the WCDoA and SATI, is Warren Bam who farms in Saron.
Bam produces organic table grapes which he exports to the UK, European Union and North America. "Now he will be able to expand into the China market," confirmed Meyer.
During his visit to another exporter, Robin Johnson, Meyer highlighted the vital role that the export market played in the Western Cape's economic recovery.
"The table grape industry, which employs 40,000 people, is an essential sub-sector of the Western Cape's agricultural economy. Growing the export market is inextricably linked to economic recovery in the Western Cape.'
Meyer outlined that the regional government had partnered with SATI to increase exports estimated at 15,750 tonnes in the 2020/21 season.
"Growing the export market by 5 per cent over the next five years will create 19,000 jobs," he added.