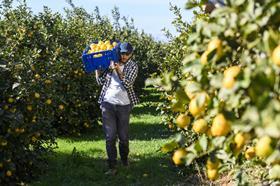 The Spanish lemon harvesting season kicks off this September with Ailimpo reporting good quality and a lower volume than in previous years.
Initial estimates forecast a crop of 1.035m tonnes for 2021/22, a fall of 23 per cent on the previous season. This is due to climate-related issues, with spells of cold, wind and excessive rainfall affecting fruit flowering and setting in some production areas.
'We are prepared to face any difficulties, to protect and respect the environment and sustainability. We are ready to start producing and bringing prestigious Spanish lemons to the toughest markets', said Ailimpo president José Hernández.
The sector will be ramping up its marketing activities under the Welcome to the Lemon Age campaign, is the most ambitious promotion, information and publicity campaign in the history of the European lemon of Spanish origin, which includes actions over three years in five countries (Spain, France, Germany, the US and Canada).
As well as highlighting the many health benefits of lemons, the campaign highlights the freshness and quality of Spanish lemons, which, on average, reach supermarket shelves anywhere in Europe within 48 hours of harvesting.
With an average production of around 1m tonnes per year, Spain accounts for more than 60 per cent of Europe's lemon output.
'Our country will continue in 2021/22 to be the leading exporter of fresh lemons, and the second largest processor of lemon juice, essential oil and dehydrated peel in the world,' Hernández said.