Persimmon producers anticipate a significant drop in volumes for the 2022/23 campaign
Spanish persimmon growers are gearing up for another challenging campaign due to inclement weather, rising prices and the higher cost of tackling pests and diseases.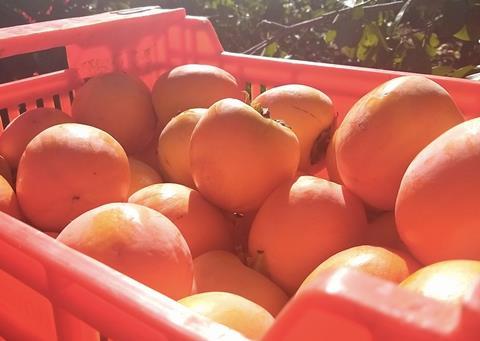 Early forecasts point to a total crop of between 180,000 and 200,000 tonnes, compared with the 240,000 tonnes harvested in 2021/22.
The regulatory council of the Ribera del Xúquer PDO in Valencia has slashed its original forecast for the 2022/23 season by 50 per cent due to excessive rainfall in the spring and high temperatures during the summer months.
President Cirilo Arnandis said the production shortfall, coupled with rising costs, would result in significant financial losses for farmers already struggling to cope with last year's unprofitable season.
In 2021/22, the PDO's growers suffered losses of €29m after 40 per cent of their crop was damaged by adverse weather and a new pest called citrus mealybug.
"The farmer is very resentful because the 2021 campaign was already bad due to inclement weather and phytosanitary problems and this year it is repeated for the second time in a row," Arnandis said.
The regulatory council said one of its key objectives this season will be to tackle the growing problem of pests and diseases such as cotonet, which has caused widespread damage to kaki and citrus crops throughout the Valencia region.
Tighter restrictions on active phytosanitary chemicals have led to a proliferation of cotonet, for which no effective alternative treatment has yet been developed.
Ninety per cent of Spanish persimmons exported to Europe come from the Valencia Community.
Despite the gloomy forecast, there are reasons for optimism. Exporters have new markets such as Peru and China in their sights, with negotiations on the phytosanitary protocol in both cases said to be at an advanced stage.
Arnandid said the sector would make every effort to supply customers with a quality product in spite of the smaller crop.
The regulatory council is once again planning an extensive promotional campaign to highlight the exceptional taste and properties of Ribera de Xúquer-branded kakis.