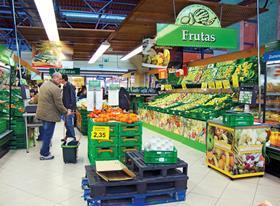 The sale of fruit and vegetables packaged in plastic will be banned in supermarkets and neighbourhood stores in Spain from 2023 under new laws being drawn up by the government.
It is one of a series of measures contained in the Royal Decree on packaging and waste that the Government is putting the finishing details to according to Spanish daily El País. The rule also contains measures to encourage the sale of bulk and non-bottled water.
The ban on packaging on fruit and vegetables will apply to all items weighing less than 1.5kg.
The ban is similar to the one contained in the French anti-waste law and that will come into force in that country in 2022.
A spokesperson for the Spanish government said the aim was to "combat in the most effective way the overuse of packaging".
Pressure from environmental groups like Greenpeace to ditch packaging on fresh produce has been mounting both inside and outside Spain.
Vice President Teresa Ribera is reportedly finishing the draft of the Royal Decree and has already held meetings with business associations and with the most important environmental organisations to inform them of some of the main lines of action it contains. It is believed to contain several European standards.
El País understands that food "at risk of deterioration when sold in bulk" will be left out of the ban on plastic containers. The list of products will be established by the Spanish Agency for Food Safety and Nutrition.
Julio Barea of Greenpeace, welcomed the ban on fruit and vegetable packaging, but warned that it was important to analyse exactly how it would be applied.
The government is said to be planning measures to promote the bulk sale of fresh produce without packaging, such as allowing customers to bring their own reusable containers.
Another of the objectives of the royal decree is to achieve a 50 per cent reduction in the sale of plastic bottles for beverages by 2030, and ensure that by that date, all containers sold on the market are 100 per cent recyclable.
In the case of hotels, restaurants and cafes, it is proposed that 50 per cent of the containers sold by 2025 should be reusable; rising to 60 per cent in 2030. In the case of beers, the targets are 80 per cent by 2025 and 90 per cent by 2030.