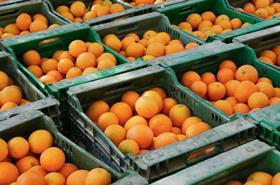 Fresh fruit and vegetable exports from Spain to countries outside of Europe fell in the first six months of 2021.
Data from the country's data from the Customs and Excise Department of the Tax Agency, processed by Fepex, showed a 21 per cent fall in volume and 24 per cent drop in value for the opening half of the year.
Year-on-year volume fell to 178,410 tonnes at a value of €199.5m, making up around 2 per cent of Spain's total fresh produce exports for the period.
Fepex highlighted the decline in exports to Brazil in particular, with volumes down 37 per cent and value falling 44 per cent in the first half of 2021 to 16,479 tonnes and €16.1m euros respectively.
Exports to Canada grew in volume, up 6 per cent to 28,291 tonnes, but value actually declined by 6 per cent.
Shipments to other third countries such as China were described as 'very low' and also fell sharply to 1,491 tonnes, down 83 per cent.
'The participation of non-European countries in Spanish exports remains at very low volumes, not exceeding 3-4 per cent of the total exported in recent years,' Fepex stated, 'although Covid-19 has caused difficulties in maritime transport, which is also influencing the decline in sales outside Europe.
'Specifically, the increase in the cost of freight and the difficulties in finding empty containers on ships that make long-distance trips have harmed shipments of perishable products.'