Ex-Anecoop president receives Grand Cross of the Order of Agrarian Merit in recognition of his outstanding contribution to agriculture
Juan Safont Ballester, who was president of Anecoop for 11 years from 2003 to 2014, has been awarded the insignia of the Grand Cross of the Order of Agrarian Merit from the Minister of Agriculture, Fisheries and Food, Luis Planas.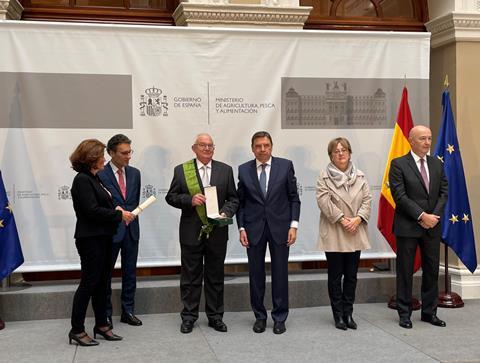 The title, the highest class of honour in Spain, recognises the outstanding contributions of individuals and entities to Spanish agriculture.
Born in 1951 in Castellón, Safont's personal and professional career has always been linked to agriculture and agricultural cooperatives, both as a producer and for his involvement in management, which led him to be president of the cooperative of which he was a member, Cocalni, between 1989 and 2021.
As Safont stated in his thank-you speech, "this is a distinction shared with the thousands of agricultural producers associated with cooperatives in Spain, entities that are the essence of what the social economy represents."
His concern and dedication prompted him to become fully involved in second-degree cooperativism, becoming part of the Governing Councils of Anecoop and Intercoop Qualitat i Serveis, two entities that he ultimately came to chair.
Among other positions, he has been president of the industrial Agricultura y Conservas, and vice president of the Anecoop Foundation, dedicated to the development of research and development projects in the agri-food sector. He has also contributed to the promotion of fruit and vegetables, through his presidency of the Sabor y Salud Foundation and the interprofessional Intercitrus, where he also served as president and vice president in alternate legislatures.
Between 2004 and 2014 he chaired the Group of Citrus Cooperatives of the Confederation of Agricultural Cooperatives of Spain (current Agro-Food Cooperatives of Spain).
A spokesperson for Anecoop said: "In his wide and varied carrer, he has always stood out for his involvement with the sector and the defence of the interests of the people who work in the field, without ever forgetting the necessary promotional work to encourage consumption and value the agricultural sector and the wealth and variety of its products".