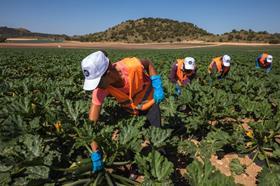 The price of some Spanish vegetables has risen sharply on the domestic market amid the coronavirus pandemic as consumers stock up on fresh produce in a bid to ward off the threat of contracting the virus.
The foodservice sector may have taken a hit following the closure of bars, restaurants and schools as part of the state of emergency declared by the government earlier this month, but the surge in home cooking has sent prices of aubergines and some varieties of pepper skyrocketing.
According to Eduardo López of agricultural organisation COAG Andalucía, prices that were at rock bottom levels just a week ago have risen by as much 95 per cent in the past few days.
"These price rises…are due to the change in habits: we are not a country that consumes vegetables, we like bars, but when we are forced to lock ourselves in our homes, people are cooking and eating more in their home increasing the consumption of vegetables," López told El Español.
Producers who were until recently being paid €0.10/kg for aubergines are now receiving €1/kg, while Italian peppers have risen more than 25 per cent from €1.60/kg to €2.20/kg and courgette prices are up from €0.30/kg to €1/kg.
"The Lamuyo pepper – a variety that is mainly consumed in Spain, Italy and Portugal – is also 20 per cent more expensive," López said.
However, not all vegetables are benefiting from the bounce. Miguel Padilla of COAG Murcia reports that broccoli prices have remained broadly stable "because families do not see it as a necessity", unlike tomatoes, onions and aubergines.
COAG estimates that consumption of vegetables has risen by 30 per cent overall since Spaniards were confined to their homes two weeks ago.
However, the association warned that this temporary bubble would not be enough to rescue an otherwise lacklustre campaign.
"When everyone has a full fridge, we will surely see a drop in prices at origin, and the likelihood is still that average prices over the season will be bad and the producer won't be able to cover his costs," López noted.