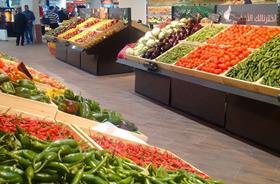 Spar International and its partner in Lebanon, Retail Works, have launched their first two stores in Beirut as part of their ambitious expansion plans in 2015.
The first two Spar stores in Lebanon are based in the Nabatieh and Sodeco areas of Beirut and will, according to the retailer, meet local consumers' demands for 'freshness, value, choice and service'.
Spar regards the state-of-the-art, 2,400m2 Nabitieh supermarket as a key source for a wide range of grocery items for the entire southern region of the country.
'These store launches mark another significant milestone in the development of the Spar brand in the Middle East,' said CEO Gordon Campbell. 'We are confident that these quality stores in these excellent locations will provide Lebanese consumers with an exciting new customer experience, which we are committed to emulating in our stores across the region.'
At last week's launch of the Nabatieh store, Retail Works's chairman and CEO, Habib Wehbi, commented: 'The launch of our second location within the first quarter is a proud moment for us. In terms of Nabatieh, not only do we aim to be a source for all household and community needs, but to also have a positive impact on the economy with job creation and added footfall.'
Plans are reportedly underway to open two more stores in Lebanon later in the year.