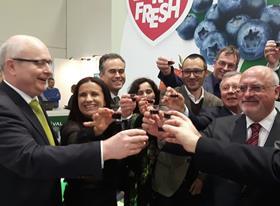 At this year's Fruit Logistica exhibition, Belgian importer Special Fruit revealed that it had entered into a strategic alliance with Portuguese berry growers organisation Bfruit. Portugal's minister of agriculture, forestry and rural development was present for the announcement of the deal, which is intended to strengthen both partners' competitive position in the European soft fruit sector.
The agreement concerns the production and commercialisation of popular raspberry varieties Kwanza and Kweli from Dutch breeder Advanced Berry Breeding (ABB), with Bfruit and Special Fruit collaborating through Portuguese company Multiberry, the exclusive license holder of Kwanza and Kweli in Portugal.
Multiberry is a joint venture between Special Fruit and Gijs Hoogendoorn, owner of the Portuguese berry production and plant propagation company First Fruit in Odemira. In this new collaboration Multiberry will be the exclusive supplier of Kwanza and Kweli plants and will also continue to play its role of testing new soft fruit varieties under Portuguese conditions and licensing them to high-quality berry growers.
Bfruit, with headquarters in Guimarães, currently unites more than 120 Portuguese soft fruit and kiwifruit producers and will be able through this agreement to strongly expand its grower base and export volume and to provide its members with new soft fruit varieties and enhanced technical support. Both partners aim to recruit at least 100ha of Kwanza and Kweli growers by 2018.
Together with the creation of a new berry production company – United Berries – near Odemira, Bfruit's total production area will increase to approximately 250ha across Portugal. Special Fruit will therefore gain access to large, year-round volumes of Kwanza and Kweli, while granting Bfruit access to new export markets for its other products.