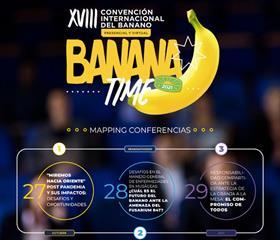 Guayaquil will be the focal point of the global banana industry when it hosts the XVIII edition of the International Banana Convention on 27-29 October.
The hybrid event will take place in person at the Hilton Colón Hotel and live on a virtual platform.
In addition to the conference forum, it will feature a gastronomic show, a business round table and a trade fair.
According to José Antonio Hidalgo, executive director of Ecuador's Association of Banana Exporters (AEBE), the conference will cover various topics of interest for the entire sector.
One session, entitled "Let's look east", will focus exclusively on the importance of signing trade agreements with Asian countries.
Other topics include the impact of rising input and freight costs; the challenges in managing disease, the future of bananas in the face of Fusarium wilt TR4, and how to handle shared responsibility in the European Union's "From farm to table' strategy.