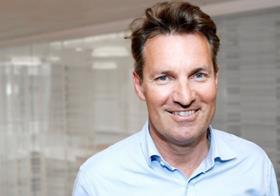 Nordic fresh produce group STC GreenFood has revealed that ICA Group executive and former Everfresh managing director Lars åström will take over as its new chief executive by the start of January 2012 at the latest.
The company, which owns a number of subsidiaries across Scandinavia and the Baltic region operating in fresh produce purchasing, imports, wholesale, distribution and processing, said the appointment would help it continue its recent growth.
'This is a dream recruitment that enables continued strong growth for the company,' said Lars Sköld, president and CEO of parent group STC Interfinans and chairman of STC GreenFood. 'Lars åström's knowledge and broad experience will be important assets in efforts to further develop our businesses.'
Having worked as a member of the management team at ICA Sweden, where he was responsible for fruit, vegetables and flowers, and prior to that as head of leading supplier Everfresh Group, part of Total Produce, åström offers STC GreenFood a wealth of experience.
'STC GreenFood's focus on strong, local entrepreneurship, combined with internal collaboration, is very attractive,' said åström. 'Sweden's ICA retailers work in a similar way.'
'I now look forward to contributing to the STC GreenFood company growing even stronger and becoming the 'local world champion' in fruits and vegetables throughout Sweden.'
åström praised his new company's commitment to innovation and to expanding its operations over the past few years.
'STC GreenFood emphasises the importance of economies of scale and good logistics solutions, which strengthen the group's overall competitiveness,' he added.
åström also pointed to growing interest in locally grown produce, a trend which he said favoured companies within the STC GreenFood group as they had close relationships with customers and suppliers alike.
With the recent acquisition of Helsingborg-based fresh-cut vegetable specialist Salico, STC GreenFood has underlined its commitment to expanding sales of prepared products in the region and, at present, is understood to have the largest production capacity for fresh convenience vegetable products in the Nordic region.