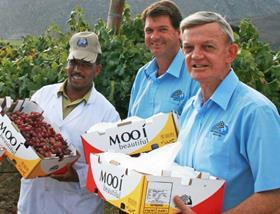 One of the leading table grape growers and industry leaders in South Africa's Hex River table grape growing region, Stephanus Rossouw, has passed away.
Rossouw played a leading role in the development of the South African table grape export business during the 1980s and 1990s – and presided over the well-known Rossouw table grape dynasty in the Valley which was started by his father, the legendary Fanie Rossouw, in 1928.
Stephanus Rossouw established the well-known farming group, Mooigezicht Estates, which is today one of the leading growers and exporters from the Hex River Valley and consists of 11 table grape farms.
He was 78 years old and has until very recently still been very active in the affairs of the company which is now managed by his son, Franscois Rossouw, who is executive director.
Fellow Hex grower and former Unifruco and Capespan director, Anton Viljoen, said Rossouw made a huge contribution to the development of the table grape industry in the Valley and all over South Africa.
"Above all, he is respected for being an excellent table grape grower and for building a dynamic table grape growing group," Viljoen said.
Rossouw served on the board of the Deciduous Fruit Board and Unifruco, as well as in a number of other companies in the Cape region.
He is survived by his wife Laetitia, five children and 13 grandchildren, as well as his brother and former table grape grower, Ettienne Rossouw and two sisters.